EasyPak Lamp Recycling - About Us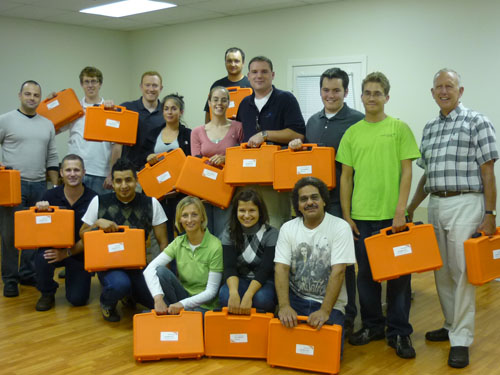 LampRecycling.com is owned by Air Cycle Corporation - an innovative leader in the recycling industry that provides solutions for mercury-containing bulb, battery, ballast, and electronic waste disposal. Our products, services, and resources are all geared toward helping you select the best recycling solution for your facility. We provide our customers with up to date information on recycling and proper disposal legislation to help you stay 100% compliant with federal and state regulations.
Recycle Lamps! How did it start?
Air Cycle Corporation was founded in 1978 and is currently based in the Chicago metropolitan area. While Air Cycle currently offers a wide range of recycling services throughout the United States, we pride ourselves on our ability to engineer innovative products to help our customers. Through the years, Air Cycle has manufactured a variety of products. Products include "Automatic Air Balance System" control panels for McDonald's restaurants (found in over 3000 locations), electronic lamp ballasts for specialty markets, and advanced coffee dispensing machines. Air Cycle has always provided quality products to meet customer needs.
Through our involvement in the lighting industry, we saw a need for equipment to make packaging spent lamps easy and efficient. As legislation was being passed to reduce pollution from irresponsible lamp disposal, Air Cycle worked to design a machine to meet the needs of facilities worldwide to recycle lamps. On March 15, 1999, our Model 55 VRS Bulb Eater® was introduced at the National Plant Engineering Trade Show. At this show, our BULB EATER®, was named one of the 17 "Show Stoppers" out of over 700 exhibitors! Based on this initial success and the attention garnered through a front page acknowledgement by the Wall Street Journal, we then focused our energies on developing a national network of recycling facilities to service our growing customer base. That network has expanded over the years and currently provides logistics and recycling services for crushed and/or intact lamps, batteries, ballasts, and computer hardware to thousands of facilities nationwide.
We then created LampRecycling.com in 2006 as an alternative recycling solution for our customers who want to store a minimum amount of waste on-site and recycle lamps. We developed the EasyPak™ pre-paid recycling containers to ship out small quantities of intact lamps, batteries, ballasts, and computer hardware. All containers are UN Certified for safe storage and transport, have poly bag liners for safety, and come with full instructions with illustrations for ease of use. By creating an account on LampRecycling.com, customers also have access to live visual reporting, Certificates of Recycling 24/7, and can start a Sustainable program to automatically be sent replacement containers once their filled EasyPak™ containers are returned. In addition to these products, we still offer Bulk Pickup Recycling Services to transport large quantities of intact and crushed lamps as well as batteries, ballasts, and computer hardware.
With over 10,000 Bulb Eaters in use and over 175,000 EasyPak™ containers successfully shipped, we have the experience and know how to make customers happy.
For more information on how EasyPak™ can work for you, view Recycling with EasyPak™.
---
Mission Statement
Our Core Purpose:
Is to Help People....Protect Our Environment....Sustainably
Why?
Because we believe that people and our environment are precious and should be treated with care.
Our Mission:
Provide innovative solutions that benefit our clients, contribute to environmental improvement, and create opportunity for our team.
Our Goal:
Every customer to be a happy, loyal advocate and rate Air Cycle as a 9 or 10 when asked the question:
How likely are you to recommend Air Cycle to a colleague or friend?
0 - Highly Unlikely<------------------------------------->Highly Likely - 10
See what EasyPak™ customers have to say...

"The EasyPak™ recycling program is very convenient - and that is the number one thing we like about it. We save on labor – no need to drive somewhere to drop off the waste. We just fill up the containers and can ship them to recycle whenever."

Mark Funhouser - The Chumash Casino Resort

Why choose lamprecycling.com to RECYCLE LAMPS? Read more here!

Reviews
There are currently no reviews.