Fluorescent Lamp Recycling: The "Green" Litmus Test
By Tom Griffin, Greener Results consulting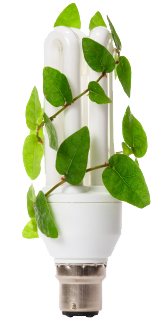 Do you remember litmus paper? Blue to red indicates acid; red to blue indicates a base…or something like that. In a similar way, basic recycling of cans, paper, and other materials is typically viewed as the first indicator of commitment to keeping the environment healthy. Whether you are seeking LEED certification or are just starting to green your facility, it is highly important that you establish a basic recycling program for your all of your waste. While it can be intimidating to get a program going, a great place to start is with something that every facility has: fluorescent lamps.
Lamp recycling? Well, let's just say that if you're recycling lamps, it's a pretty good indicator that your organization actually understands its regulatory responsibilities and that you are committed to environmental sustainability. Not recycling lamps? I've been on dozens of hazardous wastes / EPA inspections in my day, and inspectors bristle up and start sharpening their pencils when they figure out that lamps aren't being managed properly. Sure, not recycling lamps releases mercury and hurts the environment, but it can also damage your facility's reputation and obscure any other green progress you've made. Trashing your lamps also increases the chances that the EPA will drop a big fine on you (see Macy's example)- losing money over something preventable is never a good idea.
Lamp recycling is a critical measure of "greenness" – if you aren't disposing of them properly then the environmental image that you've established for your customers is ruined, no matter what other efforts you may be making. Consumers and businesses are increasingly becoming more aware of the environmental work that others do, and if they see that lamps aren't being recycled they will assume that other green work is also being neglected.
When I work with a company and I find out that they're recycling lamps, I know that we have plenty to build upon….and that we can soon help to get that company credit for its efforts. Build in a commitment to recycle more and reduce wastes and energy and water consumption over time; and you've soon got an award-winning program on your hands!
Before co-founding Greener Results Consulting with Air Cycle in September 2008, Tom Griffin spent 16+ years running EPA and state-based voluntary pollution prevention programs for the Virginia DEQ. Greener Results provides assessment of green practices, technical assistance, program development, and PR and marketing of your environmental accomplishments. Tom can be reached at tom@greenerresults.com or by calling 1-877-909-4240. For more info, visit www.greenerresults.com.