---

Click here to learn more about EasyPak™ online features like Container Tracking and Recycling Reports, or click to purchase now.
---
New 2010 E-Waste Recycling Laws
Electronics TakeBack Coalition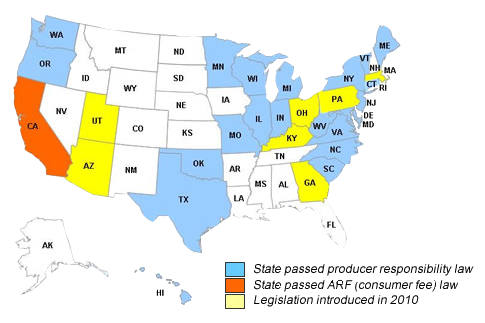 So far, 23 states have passed legislation mandating statewide e-waste recycling in, including several in 2010 (in yellow below). All laws except California use the Producer Responsibility approach, where the manufacturers must pay for recycling. This means that 61% of the population of the U.S. is now covered by a state e-waste recycling law. Generally, the scope of products covered by legislation is getting broader, with more recent laws including more products including printers, faxes, and other devices.
Click here for the full article, including information comparing all the state e-waste laws against basic criteria; a comparison of the scope of products of all e-waste laws; and a chart with collection volumes from the states.
---
E-Waste Recycling with LampRecycling.com
Try an EasyPak™ Electronics Recycling Container from LampRecycling.com for simple and efficient e-waste recycling. All waste recycled with EasyPak, including other waste types, is processed at permitted recycling facilities in the U.S. -- nothing is shipped overseas. Click here to recycle now.